I help businesses connect with more customers by marketing themselves online.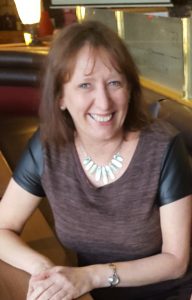 Hi, I am Fiona, it is lovely to meet you.  I have spent too many years to count working for charities.  I loved working closely with communities, developing individuals, building confidence and supporting groups to work together and make real changes in the lives of local people.
This experience has taught me
People are amazing, give them a little help and watch them turn into superheroes right before your eyes       

Community is everything

When you see something needs done and think someone should do it, remember you are someone
Persistence pays off
The first job I had for a charity was teaching computer classes.  I taught computers for the terrified and lots more advanced courses covering different applications, websites and so on.
Many of us (including myself) can use the Internet and computers instinctively, but for my students it was much harder.  I needed to think hard about how to teach them, and find a way to explain it that someone with no experience can understand.  Plus prepare them for the pitfalls and problems they may run into, and how to cope with them.
My students were well aware most people can do this instinctively, and this damaged their self-esteem – they believe that they are stupid.  Self-belief had to become part of the lesson.  "I'm stupid" was a banned phrase in my class and I am still tough on negative self-talk.
Now I can explain anything to anyone.
So be assured there is no such thing as a stupid question and if you need help, ask.
No one became an expert without first being a beginner
Over more than 10 years, I progressed and worked more extensively with community groups and people from many walks of life.  And I had the pleasure of being involved with many different projects and people who are complete rock stars at their role.  I was part of a team developing an online community before online communities were even invented – hard to imagine now.
Helping Businesses Get Online And Grow Online
I help businesses with the online part of their business.
We can work together to create a strategy for you to implement or you can leave it all up to me.
What exactly do you need help with?
        Websites

        Social media

        Social media strategy

        Online business strategy

        Email marketing

        Other online tools for things like accounts, graphic design, conferencing, bookings
In what way?
        Training – you learn, you plan and implement

        Consultancy/strategy planning – you learn, we plan, you implement

        Hands on service – we discuss your business in depth, I plan, you approve, I implement.
You can look at the services here or you can book a free 20 minute discussion to see how/if we can work together.