I help businesses connect with more customers by marketing themselves online.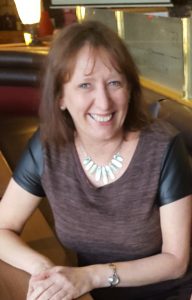 Hi, I am Fiona and I'm in the business of making businesses grow.  I could sit here and talk about the nitty gritty of it all BUT, cutting to the chase, what really matters is practical, sustainable and successful growth on your terms. That's exactly what I work with my clients to achieve. 
 I am an NLP practitioner, trainer, coach, mentor and marketer (that's the more official bit). 
I am a tea addict, coffee snob and I believe life is too short, there is always time for cake.
 I believe that we rise by lifting others and always look for the win/win. I work with business owners and teams who want to build a fabulous business that allows them time to spend with the people and activities they care about.
 I support businesses to;
Get started with and create impactful social media

No more shouting down deep dark holes, I'm passionate about engagement and you using your Social Media to create impactful connections.  Social Media engagements is profitable. 

Help you to navigate how to create screen scrolling stopping graphics for social media

Get super focused on your ideal client

Find more customers – what's not to love about that (and I promise it never has to be uncomfortable or the stereo typical car salesman type approach).

Develop your online communication and positioning with creates a deeper impact and ultimately more money 

Develop your products and services which ensures you're maximising your earning potential. 

Fit running a business into your life (not your life around a demanding business)
I do this by training courses, group programmes and one to one coaching and training.
Over more than 10 years, I progressed and worked more extensively with community groups and people from many walks of life.  And I had the pleasure of being involved with many different projects and people who are complete rock stars at their role.  I was part of a team developing an online community before online communities were even invented – hard to imagine now.
Helping Businesses Get Online And Grow Online
I help businesses with the online part of their business.
We can work together to create a strategy that works for you.
What exactly do you need help with?
        Websites

        Social media

        Social media strategy

        Online business strategy

        Email marketing

        Other online tools for things like accounts, graphic design, conferencing, bookings
In what way?
        Training – you learn, you plan and implement

        Consultancy/strategy planning – you learn, we plan, you implement